CLICK HERE TO REGISTER
AS AN INDIVIDUAL DELEGATE
CLICK HERE TO REGISTER
AS INDUSTRY GROUP REGISTRATION
REGISTRATION FEES
All delegates must register for the congress. Registration fees are as follows: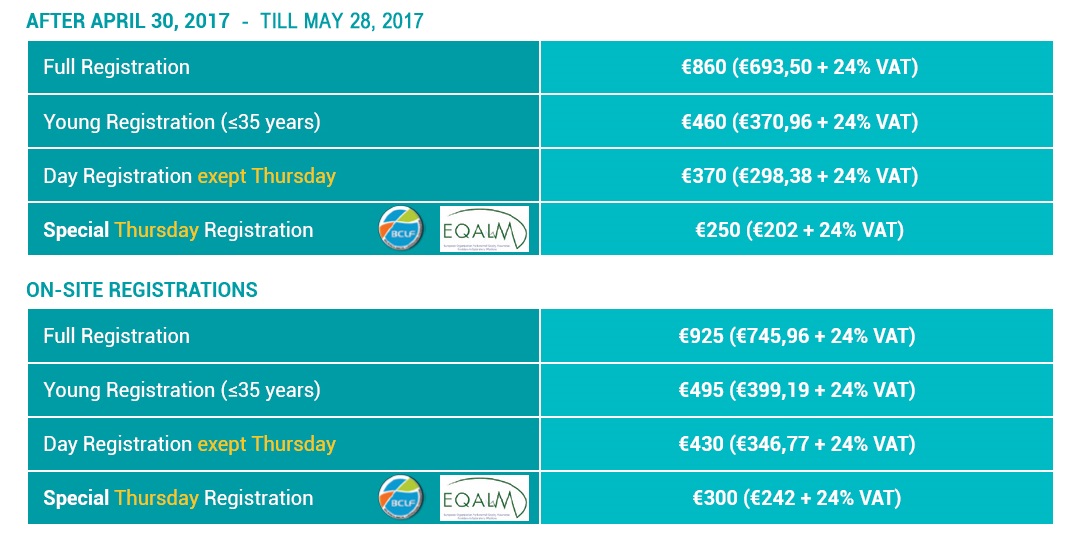 The full registration and young registration fees include:
1. Entrance to plenary lectures, symposia, educational workshops, posters sessions and exhibition
2. Possibility to submit abstracts
3. Certificate of attendance
4. Shuttle busses from Athens Airport and viceversa
5. Coffee and tea service during morning intermissions
6. Opening Ceremony and Welcome Party (Sunday, June 11th 2017)
7. Closing Ceremony (Thursday, June 15th 2017)
The day registration fee includes, for the day of registration only:
1. Entrance to plenary lectures, symposia, educational workshops, posters sessions and exhibition
2. Certificate of attendance
3. Coffee and tea service during morning intermissions
Social event Ticket
Wednesday June 14
th
Delegates €45 (€36,29 + 24% VAT)
Accompanying persons €85 (€68,55 + 24% VAT)
REMITTANCE
Registration fees shall be paid by credit card or bank transfer through the on-line system available on the congress web site.
When paying by bank transfer, a copy of the transfer receipt must be sent at
registrations@athens2017.org
.
Registrations without proof of payment will not be accepted.
On-site registrations may be paid only by credit card or cash. Cheques will not be accepted.
The organising secretariat will send registration receipt upon receipt of payment, via e-mail.
Be sure your e-mail address is filled in correctly.
PERSONAL INVITATION FOR VISA PURPOSES
To facilitate congress attendance a personal invitation can be sent on request. This invitation does not exempt the recipient from registering and paying the proper congress fee. Please inform the congress secretariat if you need a personal invitation letter.
CURRENCY
Registration fees and charges for all events related to the Euromedlab Athens 2017 Congress as well as hotel cost must be paid in euros.
CANCELLATION AND REFUND
Cancellations must be sent in writing to
registrations@athens2017.org
.
The amount equal to 80% of the fee paid will be refunded for cancellations received by 30 April 2017.
Until 31 May, 2017 a refund of 50% of the fee will be granted. After 31 May 2017 no refunds will be issued.
All refunds will be paid in euros after the congress.
CANCELLATION OF THE CONGRESS
T he congress secretariat reserves the right to cancel the congress, shift venue, or change dates without notice, in case of "force majeure". Neither MZ Congressi nor the C ongress Organising Committee shall be liable for any damage claims.
LIABILITY AND INSURANCE
Registration fees do not include the insurance of participants against personal accidents, sickness and cancellations by any party, theft, loss or damage to personal possessions. Participants are advised to take out adequate personal insurance to cover travel, accommodation, cancellation and personal effects.
Registration can be submitted on-line only.
DEBATES
These sessions, open to the general public and the press, require previous free registration through the dedicated online system at
this link
.
The registration to these sessions is mandatory even for people registered to the Congress.
MEET THE EXPERT SESSIONS
These sessions require previous free registration on a first come first served basis, as the attendance will be limited. Please select the session among the services during the online registration system.